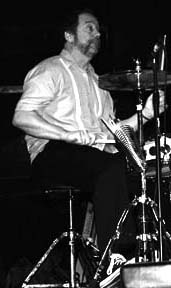 Scott Flowers



Holding the drum position in Blue Lunch, now for his second time go-round, is Scott Flowers. Born and raised on a diary farm in Gustavus, OH, Scott set out early to make his mark as a musician by moving to the Washington, DC area where he soon landed the drum chair with the well-known touring and recording act, The Star Spangled Washboard Band. Scott also toured extensively with Eddie & Martha Adcock, Bob Margolin, Tex Rubinowitz, the Neanderthals, the Falls City Ramblers, and many more.

Scott played on the first Blue Lunch recording, Recorded Live at Wilberts, and now plays again on their fifth and newest cd, Sidswiped.

When not performing with Blue Lunch,Scott works as a licensed massage therapist. He, his wife Inga and their daughter Isabella live in Mayfield Heights, OH.